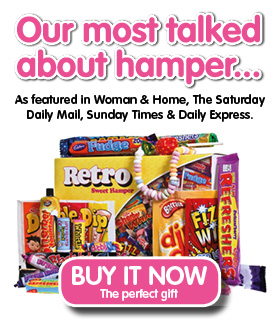 Welcome to our Online Retro Sweets Shop – full of sweets you'll remember from your childhood!
Our traditional sweet shop in Yorkshire stocks hundreds of sweets that will transport you on a happy nostalgic trip down memory lane. From Flying Saucers to Floral Gums, Pontefract Cakes to Popping Candy, Rhubarb & Custards to Rosey Apples, Kola Cubes to Kali and Cherry Lips to Cinder Toffee...we've got them all! So if you're a fan of Retro Sweets , Boiled Sweets , Liquorice , Toffees , Mints Sweets , Sour Sweets or Medicinal Sweets then look no further. Have a browse through all the departments in our traditional sweet shop, you're sure to find something to tempt your tastebuds.
Don't forget to check out our Retro Sweet Hampers too which make fab gifts for anyone with a sweet tooth, and our Sweet Subscription makes a tasty present for those tricky-to-buy-for people, after all who wouldn't like to get a parcel of sweets through the door each month?
If you have any special requests, then please do get in touch via our Contact Us page - we'd love to hear from you!