About Bah Humbugs.......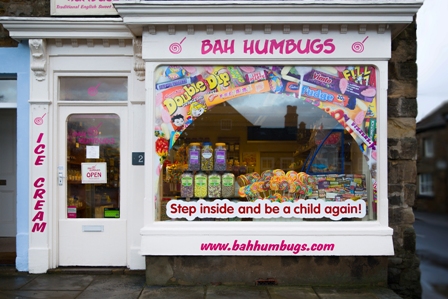 We opened back in May 2004 with the idea of creating a Sweet Emporium for Retro Sweets fanatics after several nostalgic conversations about sweets. Within a month we'd found premises, located all the sweets we could find, and opened the door to our new sweet shop in Masham, in the Yorkshire Dales.
The business is run by myself and a team of fabulous people who all work hard spreading the Bah Humbugs Sweet message.As well as the huge number of different sweets we have, we also stock a fab range of SWEET HAMPERS and SWEET GIFTS. Today we have one of the largest selections of sweets online and we send sweets all over the world. Bah Humbugs has become renowned in the confectionery world as having one of the largest selections of liquorices in the UK with over 50 different different varieties to choose from. We also provide a range of sweet gifts, childrens sweet party bags, a sweet subscription scheme, wedding favours and a mobile sweet shop for events.
If you're in Yorkshire, please do pop in to see us. There's plenty of things to do in and around Masham, otherwise take a browse through our online shop for a superb selection of Retro Sweets, Sweet Hampers and other tasty treats.

Thanks for your custom, we hope you enjoy the Bah Humbugs experience!!
Bah Humbugs Limited trading as Bah Humbugs

Registered Office:
Eva Lett House,
1 South Crescent,
Ripon,
North Yorkshire,
HG4 1SN,
England
Registered Company Number: 10290747
Telephone Number: 01765 688 997
Email Address: kelly@bahhumbugs.com